According to the theme Set Sail from Blessed Land when the Wind is Positive, the first ASEAN-China Online Influencers Conference and Fujian Brands Promotion Tour along the Maritime Silk Road was held in Fuzhou from January 11th to 13th, 2022. 3 ASEAN students from Vietnam, Malaysia and the Philippines of FAFU participated in the event.
During the event, ASEAN students shared their own experience of living and studying in Fujian, and promoted products through live streaming with influencers from ASEAN countries and famous Chinese Internet vloggers. Not only did they sell products made in their own countries, but also promoted Fujian and the brand of goods made in Fujian to assist the sales of Fujian goods globallyand to introduce China and Fujian to the rest of the world.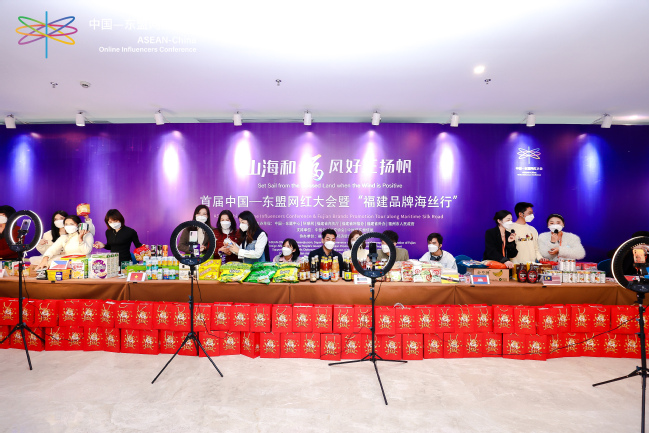 Live Streaming Scene
Symposium Scene
After the live streaming, our ASEAN students joined the symposium together. Yang Guang from Vietnam said that China's livestream ecommerce is developing rapidly. During the epidemic , the influencer marketing shows an extraordinarily strong vitality and has become a bright spot of China's economy nowadays. This kind of marketing strategy also extends to other countries, for instance, some Vietnamese businessmen begin to sell goods through live streaming platforms like Tik Tok China, which exposes Chinese and foreign goods to customers from all over the world more easily.
Lin Weiwang from Malaysia said that there are many famous brands in Fujian, such as Great Olive, Anta, Anxi Tieguanyin, and so on. Through live streaming, Fujian brand and Fujian story will be better known to foreigners so as to facilitate the sales and purchases.
Group Photo
It is reported that the event is co-organized by ASEAN-China Centre, Huanqiu.com, Department of Commerce of Fujian Province, Office of Fujian Provincial Party Committee Cyberspace Affairs Commission, Office of the Foreign Affairs Commission of the CPC Fujian Provincial Committeeand Fuzhou Municipal People's Government, and supported by China Public Diplomacy Association and Mission of the People's Republic of China to ASEAN. This event will focus on promoting onlineinfluence of Fujian products globally. Fujian products and famous enterprises in Fujian and Fuzhou like Fuzhou's tea, wine, Min Cuisine and Artifacts will be marketed to countries and regions along the Silk Road, creating a brand new image and exposure of Fujian Brands along Maritime Silk Road.