In order to further enrich the life of international students and promote Chinese traditional culture, the International College held an activity of Writing Chinese New Year couplets and Cutting Window Flowers on the afternoon of January 18th, with the presence of Mr. Wang Ruiling, Chairman of FAFU's Calligraphy Association, and Mr. Wu Lin, Chinese Dean of Confucius Institute in Durban, South Africa.
The activity first introduced the tradition and the good meaning of writing Chinese New Year couplets and cutting window flowers. After that, Mr. Wang, with her exceptional and proficient skills, guided the international students to write the couplets and the character 福, which means happiness and blessing in Chinese, with blessings and wishes. The international students also created various and beautiful window flowers by using the scissors and the red paper under the guidance of Chinese teacher Ms. Lei Yu.
Writing Chinese New Year Couplets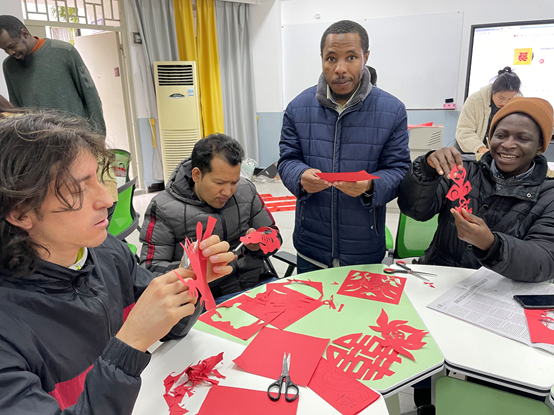 Paper Cutting
Group Photo
Waheed from Pakistan said, "Writing Chinese New Year couplets and cutting window flowers is part of Chinese traditional culture, and it is very meaningful to participate in such an activity, which allows us to experience the fun of DIY and to absorb the essence of traditional Chinese culture."
57 international students will stay on campus for 2022 winter vacation. Conforming to regular epidemic management, the College will hold various cultural and sports activities and activities of experiencing Chinese traditional culture for international students to maintain fitness, enrich the spiritual and cultural life, and strengthen the sense of belonging to FAFU and the recognition of Chinese culture.